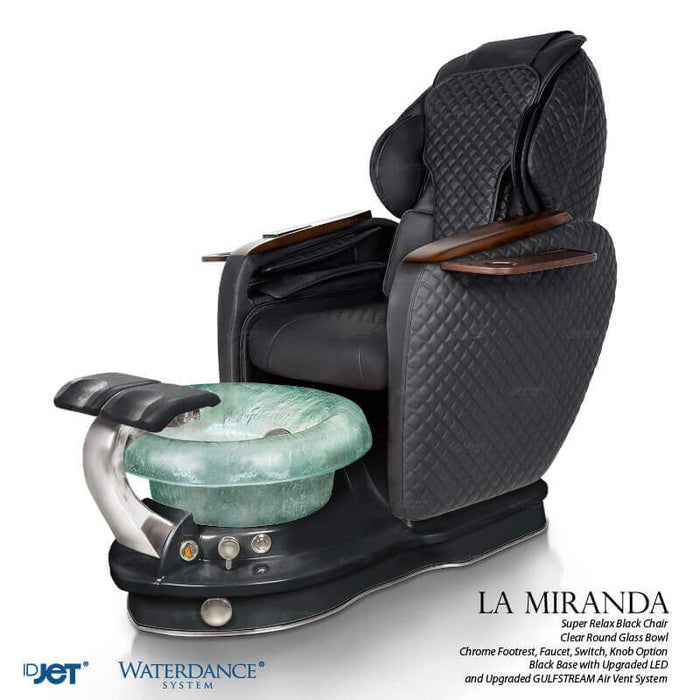 Super Relax Miranda Pedicure Chair
Save

$780.00
Save

$780.00
Original price
$4,175.00
-
Original price
$4,175.00
Free Shipping - The versatile La Miranda unit is Gulfstream's latest member of the Super Relax family.
The attractive design, combined with many colour choices of Canadian-made quality glass bowls with the Universal Induction IDJET system and/or Waterdance system.
The La Miranda Spa comes with Super Relax Chair with the unique design of a pedicure chair that has a relaxing upper body massage and Gulfstreams revolutionary 360-degree versatile footrest. Each pad can be turned, lifted and used in many different positions, and can come in our unique gold model as well as our standard chrome.
Luxurious, Reliable, Comfortable…
3 different options for massage – relaxing roller back, side arms and seat massager conveniently placed, forward/backward button for the technicians to move the chair.
• Virtually no pressure on the lower back
• Eliminates back pain
• Less pressure on the heart and expands lung capacity
• Lowers blood pressure and heart rate
• Increases blood circulation and oxygen flow
• Reduces swelling in the legs
• Deeper, more relax breathing
• Cures muscle tension, relax the whole body
• Improves the sleep quality
• Recommended by many Chiropractors and Doctors specialized in pain management
• Luxurious, Reliable, and Comfortable.
• Great for a manicure, pedicure, waxing, facials, and eyelash extensions.
• Three different options for massage, including the relaxing back roller massage.
• Also, it has one remote for the customer, with the seat forward/backward button conveniently placed for the technician.
• Elevate customers' feet to a comfortable position for technicians
• Lose yourself in total relaxation.