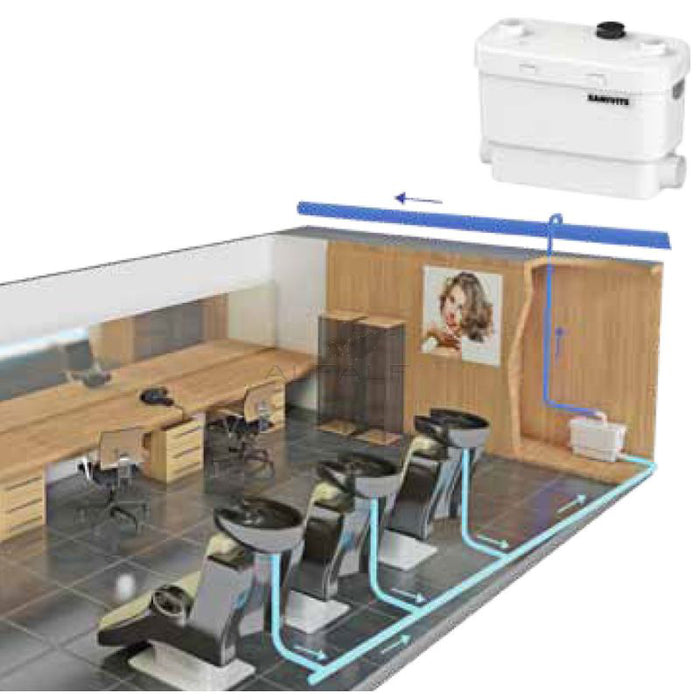 SaniVite Drain Pump
Save

$95.00
Save

$95.00
Original price
$650.00
-
Original price
$650.00
Free Shipping - This Sanivite model was designed to sustain the toughest applications—its pumping capabilities and unique design are the reason why these range of pumps are preferred for heavy duty applications. The unit pumps waste water upward to 16 feet and/or 150 feet horizontally (with gravity fall). Once the water is discharged and the water level in the container goes down, the micro switch deactivates the unit until water enters the unit again. A normal operating cycle for the Sanivite can be as short as 2 - 10 seconds depending upon the discharge pipe run configuration, allowing it to operate at full capacity with minimal power consumption. The Sanivite will accept and discharge the waste water from a variety of sanitary fixtures such as sinks, showers, bathtubs, urinals, and whirlpools. This pump is small enough to fit comfortably inside a cabinet or vanity or inside the overhang of a whirlpool.
Features of Saniflo - Sanivite Drain Pump - Residential/Commercial:
Drain pump used to pump water away from multiple fixtures
Electrical: 120 V – 60 Hz / 4.5 Amps (Max)
Discharge rate at 16 ft: 18 GPM
Discharge rate at 3 ft: 29 GPM
Made in the USA
Dimensions: 7.5" x 14.5" x 10"