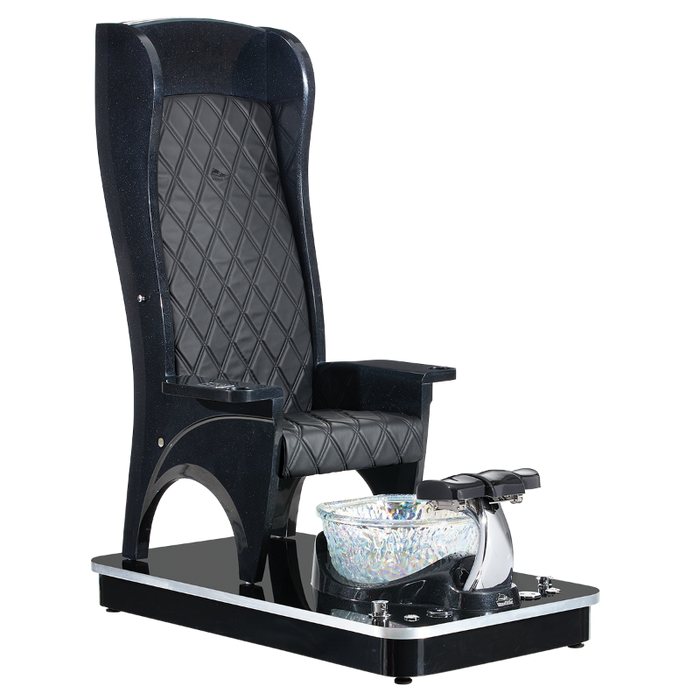 Monarch Pedicure Chair Bench
Save

$505.00
Save

$505.00
Original price
$4,800.00
-
Original price
$4,800.00
Free Shipping - The ultimate in pedicure pampering awaits your clients as they comfortably rest on our newest offering fit for a queen or a king. After years of careful research, planning, and development, we are proud to introduce you to the Monarch chair to elevate your nail salon or nail spa with sophisticated design touches yet still retaining the comfort and quality that Whale Spa salon furniture is known for.
Provide the royal treatment to your salon clients with the Monarch. The generous 6 feet tall high-back chair is luxurious in genuine Italian leather, stain-resistant and antimicrobial in Enduro™ vegan leather. An array of custom components such as an artisan crystal-glass basin and built-in massage will immediately transport your clients to true bliss and relaxation.
FEATURES
With or without Caresst™ Massage
Enduro™ vegan leather seats
Luxurious white leather-wrapped armrests and high seatback
High-gloss white enamel finished wood armrests, foldable trays, and cup holders
Crystal-glass basin with iridescent "mother of pearl" finished surface
The basin is durable, thermal shock resistant, LED-lit, and compatible with spa liners
Integrated purse hooks built into armrests
Included matching diamond Enduro™ vegan leather pedicure stool
All surfaces treated for acetone resistance
2-year limited warranty
DIMENSIONS
56"L x 30"W x 53"H (trays down)
56"L x 46"W x 53"H (trays up)


Built into the pedicure chair base near the client's feet, these dual air vents are capable of connecting to a salon's ventilation system in order to lessen dust and odor. Air Vent System provides room purification, can minimize inhalation exposure, and reduce the health risk of your customers and salon technicians.
Pipe-free magnetic whirlpool jets that are easy to clean and accept disposable liners. Additional magnet jet heads can be purchased separately so that disinfected heads can be ready to use for the next client with minimal chair downtime.
Auto-Fill (Optional)
With the press of a button, the spa basin will fill with water, at the appropriate level, the water will automatically shut off, the jet will run and the LED light will turn on. Works with disposable spa liners. (Optional on any of our pedicure chair models.) This feature automatically stops filling the basin once the proper water level is reached. The greatly reduces the chance of overflow and allows the technician to continue working while the pedicure spa fills with water.
Discharge Pump (Optional)
The highest quality discharge pump available. This pump will quickly and efficiently drain the tub and requires very little maintenance.. (Note: This pump is only required if you are not draining water directly into an adjacent floor drain.) (Please be specific when ordering)